The origin of the "a i l é F a n M"
Our new brand is named "ailéFanM", pronounced as elephant (in French éléphant) and in French "ailé" is an adverb, which means to "have wings". Moreover, Pegasus refers to a horse with wings and the French equivalent is the word "cheval ailé". The capital letter "F, M" within ailéFanM is a reference to the designer, Mamiko Furutani. The name "ailéFan" reflects the designer's belief that the brand will fly around the world.
Concept and Brand History
In 2005, Mamiko Furutani started the brand "Cousette de la main à la main". From the beginning, she has placed great importance on the three-dimensional silhouettes of fabrics and has continued to pursue a universal beauty that does not depend on age or fashion trend. Although silhouette and comfort are both important factors, Mamiko also loves the fun of creating something unexpected and new, often reflecting a change in perspective. Rebuilding the existing shape at the same time, we can still feel the elegance of the design, which is the identity of the brand. The brand name has renamed from "COUSETTE DESIGN" to "ailéFanM" on 2016.
The birth of the noteworthy New Tokyo brand!
The Tokyo brand "ailéFanM" which has evolved from "Cousette de la main à la main", first began in the Autumn-Winter 2010 season. This brand of Mamiko Furutani, who has had a long career as a fashion designer, is characterised by edgy and avant-garde designs that allow us to have a wardrobe that can be mixed and matched with other clothes. For this season, especially, she proposes a mode style for adults, which mixes current in-trend military and nomadic elements. When questioned about her brand concept, the designer explained, "I think that something avant-garde is always new and does not age with time or period". She also added that, "I respect a defiant attitude to authority but the elegance of a design is still the most important point for me. My style is to review existing form and discover new beauty".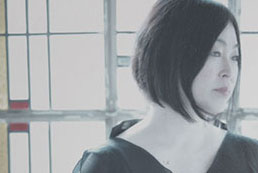 ailéFanM
Mamiko Furutani